BoulderValleyHoney@TEDxCU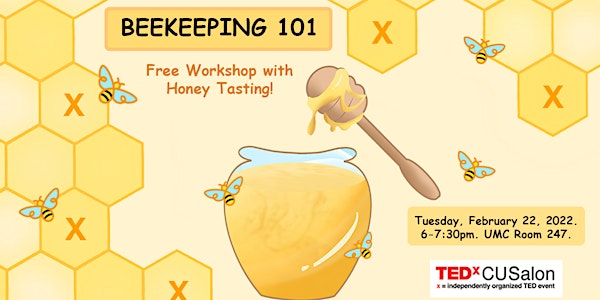 In this seminar, participants will learn the basics of beekeeping by a local Boulder beekeeper. We will also be discussing how to create a bee-friendly environment in your backyard and participating in a local honey tasting. This event is free and open to the public.
There will only be 32 participants, so get your tickets now!
Our seminar will be led by Chris Borke. Chris Borke is a beekeeper with years of experience. He runs Boulder Valley Honey, a local honey company whose goal is to produce delicious, natural honey while caring for the bees that produce it with sustainable and ethical agricultural practices. As a CU Boulder alumnus, accomplished triathlete, and trained engineer, Chris has a wide skillset and deep well of knowledge, but his passion is caring for his bees and sharing his knowledge with the Boulder community.

Get tickets to this free community event here:
https://www.eventbrite.com/e/tedxcusalon-beekeeping-101-tickets-255245595447#

--- Post Event Update ---
Video of the event can be found here:
https://www.youtube.com/watch?v=LzNBxBQ65iI&t

Feel free to follow along with the slides, which can be downloaded here.